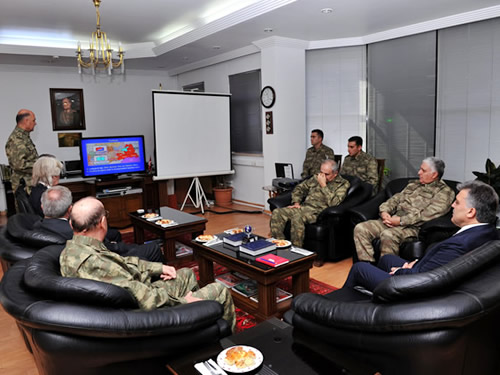 President Abdullah Gül along with the Chief of the General Staff, Necdet Özel; the Chief of the Army, Hayri Kıvrıkoğlu; the Commander of the Gendarmerie Forces, Bekir Kalyoncu and the Commander of the Second Army, Servet Yörük inspected the Turkish troops in the Eastern and Southeastern provinces.
The President, as the first leg of his program, visited the Van Gendarmerie Public Order Corps Command, was there informed about the security issues in the region including the military operation in the Mount Kato area for which he congratulated the commanders and troops staging the operation.
President Gül, afterwards, proceeded to the county of Yüksekova, where he also inspected the Third Tactical Divisional Unit, about whose operations and activities he was briefed. The President later gave some presents to the successful officers, sergeants and privates.
After having lunch with the soldiers at the Third Division's refectory, the President attended the Handover Ceremony at the recently established 7th Border Regiment Command and presented the colors to the Regiment Commander by kissing it. He, at the end of the ceremony, chatted with families and children of the war veterans and martyrs watching the ceremony.
Completing his program in the Yüksekova area, President Gül got together with the troops of the Hakkari Commando Command and later he had dinner with the soldiers at the brigade's refectory. The President spent the night at the Hakkari Brigade Command.