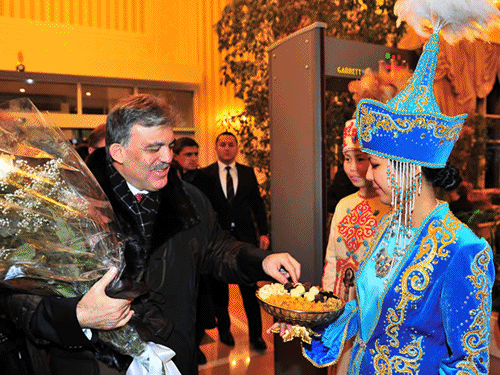 More than 40 heads of state and government participating the 7th Summit of the Organization for Security and Cooperation in Europe (OSCE), reaffirmed their commitments and responsibilities, calling for peace and collaboration.
President Abdullah Gül paid a two-day visit to Astana, where the 7th Summit of the Organization for Security and Cooperation in Europe (OSCE) was held.
President Abdullah Gül delivered a speech on the second day of the summit starting with the welcoming of the heads of state and government by Nazarbayev of Kazakhstan and with the family photo taken afterwards.
COMMITMENT TO THE OSCE PRINCIPLES
Declaring the OSCE Summit to be a unique opportunity to reiterate their common will and resolve to overcome their differences and work together in solidarity, President Gül suggested that this joint work must be based on their OSCE commitments to create a qualitatively enhanced cooperative security environment, saying: "Despite ongoing efforts, the protracted conflicts remain unresolved, undermining the OSCE's credibility." He also drew attention to the fact that it is incumbent upon them to make the Astana Summit a turning point in the way they address the protracted conflicts and maintained that they should manifest their resolve to utilize the instruments at their disposal and to transform their commitments into deeds, wanting a declaration issued regarding this issue.
CENTRAL ASIA'S SECURITY
Central Asia, like other regions is not immune to transnational challenges and threats, claimed the President, and he suggested that the OSCE with its institutions and expertise further contribute to capacity building efforts through its field missions by saying: "In this vein, beside our strong bilateral engagement, we have supported the deployment of an OSCE Common Security Initiative in Kyrgyzstan by nominating qualified police officers."
THE BALKANS
Turkey, President continued, has initiated the establishment of two trilateral consultation mechanisms, namely between Turkey and Bosnia and Herzegovina and Serbia; and between Turkey and Bosnia and Herzegovina and Croatia and stated that the full implementation and further development of the OSCE's politico-military acquis is as important today as in the past. Turkey, he declared, supports ongoing efforts to update the Vienna Document in 2011, proclaiming: "The preservation of the legally binding regime with all its elements, while modernizing its provisions in order to make it more responsive to present day realities is the basis upon which Turkey will engage in any future negotiations."
TURKEY'S RESOLUTE STANCE TOWARD HATE SPEECH
The President also reiterated that the dignity of the human being, democracy, rule of law, fundamental rights and freedoms require constant vigilance, protection and improvement. "Recent trends in the rise of xenophobia, Islamophobia, anti-Semitism, discrimination, and racism, regardless of their motives or alleged justifications, call for urgent attention and joint action. Different perceptions about religion and culture driven by hate invite the risk of divisions and even conflicts among and within our societies. I would encourage all of us gathered here in Astana to take the lead in our respective countries in combating these phenomena actively and speak out against all forms of hate speech. As the current chair of the Council of Europe Committee of Ministers, Turkey will pay particular attention to this topic!" he exclaimed.
BILATERAL TALKS WITH HEADS OF STATE AND GOVERNMENT
President Gül, as part of his schedule during the summit, held tête-à-têtes with some heads of state and government attending the summit.
Separately meeting with his Kazakh counterpart, Nursultan Nazarbayev; Albanian President, Bamir Topi; President Pal Schmitt of Hungary and the Azeri President, İlham Aliyev, President Gül also separately received British Deputy Pm, Nick Clegg; OSCE's Secretary General, Marc Perin de Brichambaut and Vatican's Secretary of State, Tarcisio Bertone.
MEETING WITH MIROW OF EBRD
President Gül received the Chairman of the European Bank for Reconstruction and Development (EBRD), Thomas Mirow, who informed him that they would execute their activities in Central Asia and the Caucasus from Istanbul, where they would hold the EBRD's 22nd annual meeting in 2013, appreciating Turkey's economic performance.
GÜL VISITS KHAN SHATYR
The President declared the Khan Shatyr, built by a Turkish construction firm, to be Central Asia's most spectacular structure and an engineering marvel. He also lauded Turkish construction firms that have built 90% of the city of Astana, adding that each time he visits Kazakhstan, he finds a more developed Kazakhstan.
Having completed his schedule during the OSCE Summit, the President returned to Turkey.