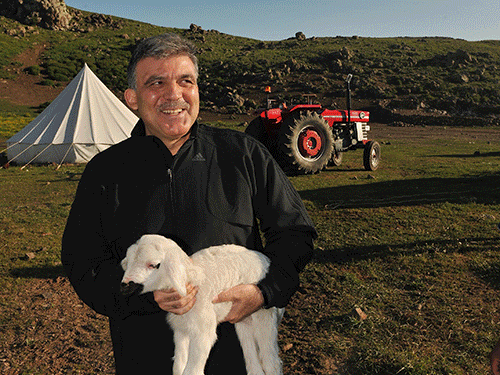 President Gül, paying a visit to his hometown, the province of Kayseri, where he attended the groundbreaking ceremony for Abdullah Gül University, enjoyed the beauty of Erciyes Highlands in the morning.
President Abdullah Gül, as part of his program, chatted with citizens there and he was presented a lamb by a woman during his visit to the highlands.
TRADITIONAL KAYSERI BREAKFAST
On the second day of his visit, the President attended the traditional Kayseri brunch at the Kayseri Metropolitan City's facilities on Mount Erciyes where he addressed his fellow citizens.
GREAT ACHIEVEMENTS OF THE KAYSERI'S INDUSTRIALISTS
During his speech, President Gül, lauding industrialists and entrepreneurs of the province of Kayseri, recalled that in 2006 the foundations of 139 factories were laid and shared his pride in the accomplishments of some of these facilities.
JUNE 12 ELECTIONS
President Gül asserted that democracy in Turkey has deepened and taken root, referring to the general elections held on June 12 that 95 % of the citizens' will is to be represented in the Parliament.
Mentioning the two indispensable elements of democracy as participatory and representative democracy, the President suggested no one try to cast shadows upon the results of the elections that achieved these two elements. "Today, there are some problems emanating from the current laws, but these problems can be overcome with maturity and dialogue. I have no doubt that we can do it together. The Parliament is the very place where they should be settled," he evinced.
BREAKFAST PARTICIPANTS
Attending the traditional breakfast were Energy and Natural Resources Minister Taner Yıldız, Labor and Social Security Minister Ömer Çelik, Justice and Development Party's (AK Party) Group Deputy Chairman Mustafa Elitaş, some MPs from Kayseri, Presidency Secretary General Mustafa İsen, Governor Mevlüt Bilici, Mayor Mehmet Özhaseki and a number of invitees.
MOUNT ERCIYES MASTER PLAN
The President, afterwards, proceeded to the facilities constructed as part of Mount Erciyes Master Plan where he was informed about the developments regarding the plan.