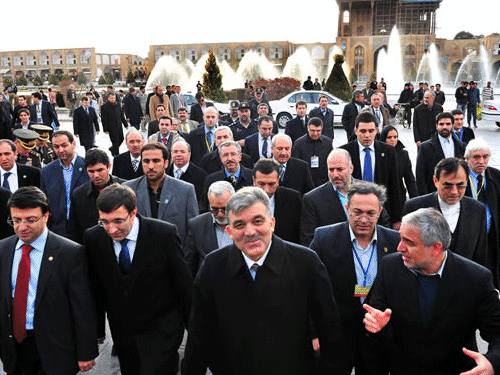 President Gül, after completing his programs in Tehran, proceeded to the city of Isfahan, where he explored a number of the city's historical places.
ISFAHAN'S HISTORIC PLACES
Paying visits to the historical places used as headquarters during Safavid times, the President first explored Cehel Suton and signed the special book in the palace. He then visited Naqsh-e Jahan Square, Ali Qapu (Sublime Gate Palace), Imam Mosque, Sheikh Lutfallah Mosque and the bazaar at the square as well as the Khajoo Bridge in the city respectively.
The President, after receiving the General Governor of Isfahan, Ali Reza Zakar Esfahani, attended the dinner given by the governor.
NAQSH-E JAHAN SQUARE (IMAM SQUARE)
Built as one of the most spectacular structures in the city of Isfahan during the reign of Shah Abbas, Naqsh-e Jahan Square was the world's broadest square at the time when it was constructed. Today it is only second to China's Tiananmen Square. Surrounding Imam Square is the Isfahan Bazaar, Sheikh Lutfallah Mosque, Imam Mosque and Ali Qapu.
ISFAHAN IMAM MOSQUE
Considered to be one of Islamic architecture's most important structures, Imam Mosque was built in Naqsh-e Jahan Square during the Safavid Empire. The mosque is of great importance in terms of its architectural style and the works of ceramic and wood engraving found within.
ALI QAPU (SUBLIME GATE PALACE)
Used as the gate through which the first Safawi Shahs entered the city, Ali Qapu was built during Temur Khan's reign and additional storeys were constructed by Shahs Abbas I and II. The 7-storey palace is 48 meters tall.
SHEIKH LUTFALLAH MOSQUE
It was built during the reign of Shah Abbas I by Architect Muhammad Reza Esfahani in the 18th century
MUSEUM OF CEHEL SUTON
The construction of the Museum of Cehel Suton with its 67,000- square meter yard was launched during the reign of Shah Abbas I and completed by the ensuing Shah, Abbas II.
HAJI BRIDGE
Constructed during the reign of Temur Khan for pedestrians, horsemen and camel caravans, the 133m by 12m Haji Bridge, regarded as one of the world's most beautiful bridges, was renovated by Shah Abbas II.