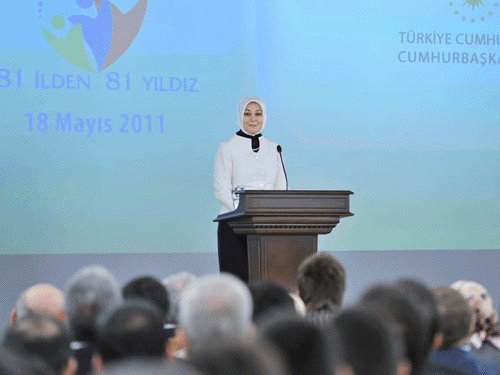 Distinguished guests,
Dear youngsters,
We assume the springtime, when the universe revives itself, is an opportunity to freshen our social projects and to draw the attention of the public to these issues once again.
Last month we conducted an evaluation meeting of the "Education Enables" Campaign here with the participation of the First Ladies of friendly and sister countries. The success of our campaign on both domestic and international platforms has been a source of pride for all of us.
We are here today to review the activities within the scope of "The 81 Stars from 81 Provinces Project", which is another important educational project for us, and to introduce the stars of 2011.
First of all, I would like to say welcome to the youngsters newly joining our family and to the esteemed guests who keep us company and share our felicity.
Throughout history, education has never been as important for a country as it is nowadays. Today, the greatest wealth of nations is their educated human resources.
Qualified and knowledge-generating manpower is the main source of social and cultural development.
As you know, our country has a young and dynamic population. 55% of our population consists of the youth. This is a significant advantage for Turkey.
As a country progressing steadily in every field and taking its place among the rising states of the world, we should make use of this potential very well and transform our young population into qualified workforce via a decent education.
Our state also mobilizes all its sources to that end. In recent years, the share allocated from the budget for education has been substantially increased. Numerous projects have been launched. A massive enhancement has been achieved in both the schooling rate and the number of students.
However, it is a bit unlikely that we can reach the education standards as required by the modern era with only state facilities being brought to bear in a country with 20 millions of students.
I think we all have responsibility in this regard. The panorama in front of us demonstrates that I am not the only one who bears this thought.
I am glad to witness that a very pleasant synergy occurs thanks to the state – citizen cooperation in the field of education.
Today, many philanthropists have schools, classrooms and dormitories built, give scholarships, and support students in need, recognizing that the money spent for our children and education is actually an investment for the future of our country.
Distinguished guests,
As a mother who believes in the importance of education and who bears responsibility for all children living in my country as much as for my own children, I am trying to do my part.
We launched "The 81 Stars from 81 Provinces Project" two years ago with these thoughts in our minds. We took successful students in their schools and sports, who are detected by governorships in our provinces, under our patronage. We support these kids as their stand-in mother and try to stand by them when they face problems.
We are a huge family with 162 children. I would like to say how happy we are that our kids have never broken our confidence. They have achieved prominent successes in both school and sports and continue to make us proud.
Özge and Nafiz who got into the Faculty of Medicine; Fatih, who won the right to study in the Department of Mechatronics at one of the most successful universities of Germany; Begüm and Şükran who are studying the Department of Mathematics Teaching; Zehra, who studies in the Department of English Teaching and Neslihan, who got into the Department of Topographical Engineering…
Nur, European Youth Taekwondo Champion; Ferdi, the Champion of Turkey in Weight-Lifting, Birce, the Figure-Skating Champion of Turkey, Ümit Erkan, the Karate Champion of Turkey and others whose names I could not mention here…
We are proud of them very much. I congratulate and wish them  continued success.
Distinguished Guests,
Today, 81 new brilliant kids are joining our family. They also  deserve to be here owing to their achievements in their courses and in sports just like our other stars.
Ceren, World Gymnastics Champion; Emel, the Balkans Athletics Champion; Simge, European Champion in Badminton and Erhan, First Runner-up of World Taekwondo Championship are only a few of the 81 stars joining our family today.
The common ground between them all is that they work fearlessly and resolutely against all odds and challenge life in order to be successful.
From now on, we will stand by them in their struggle and try to make life easier for them as far as we can so that they can focus on academic and sports activities.
I believe that each of our stars will build not only their future but also the future of our country on a  more solid basis with our support as well.
Therefore, I would like to reiterate once again: "Let's protect our youngsters". Let's not forget that the youth are our future.
Dear Youngsters,
Our future is entrusted to you. You are going to carry our country to the level of the modern civilizations.
We rely on you. You should also count on yourselves. Aim for the sky. You can reach all the targets by working resolutely and ardently and as long as you are determined and know what you want.
Read, search and question extensively. This is the only possible way to internalize our history, culture and identity; namely, the very values which form our core and keep us together.
I regretfully see that our youngsters do not read books as they are supposed to. However, books are the most important keys to using our languages properly, to eloquence, to having a ready pen, to literature, arts and science. It is also the first step toward success.
I expect you all to be accomplished ones as all mothers do. Yet, what is more important for me about being successful is being honest, principled and moral as well; shortly being a good person.
You should set a good example for the next generations with your stances and personalities as well as your achievements. Do not forget that we are a family now and every mistake that could be made by you will also break me down, but I wholeheartedly believe that all of you will act with this sense of responsibility and sensitivity.
Before ending my speech, I would like to express my gratitude firstly to the Ministry of National Education, our governors, relevant institutions and organizations and to everyone who supports our project and makes effort for it. And I hope the stars of Turkey increase day by day.