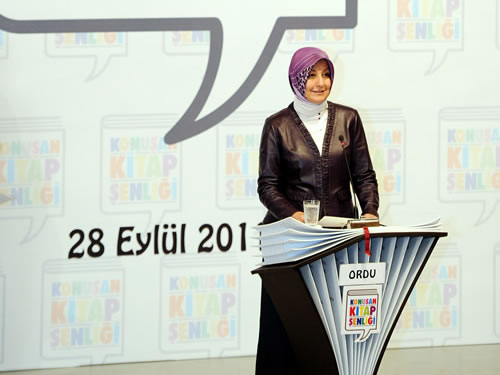 "Distinguished Guests,
On this beautiful autumn day, I am very glad to get together with you in Ordu, a corner of paradise by the Black Sea with its unique nature, plateaus and pleasant creeks for which many poems were written. First of all, I would like to thank the people of Ordu for hosting our event.
To strengthen the relations of our society with reading, and especially to imbue our children with the love for books, 3 years ago we started the Talking Book Festival.
This is our fourth gathering with booklovers, following our meetings in the İstanbul, Şanlıurfa and Kayseri festivals. I welcome all participants who are here today to demonstrate their support for us.
Distinguished Guests,
People are the greatest wealth of nations in this modern world. For this reason, many developed countries allocate 10% of their national incomes to investments in their people.
We, as a country, have a young and dynamic population. In order to turn this potential into human capital, which is the main element of economic, social and cultural improvement, we have to enable the next generations to acquire reading as a habit.
Because a youth that can read, question, draw logical solutions from what they read and implement them into life is not a problem but a solution for problems themselves.
Reading is the easiest and the most effective way of learning for a person, who passes through many educational steps starting from the day he was born.
Books improve not only our knowledge but also our social and cultural qualities. They direct our emotions and thoughts. Books also shape our characters indeed. Only by reading books, can our children internalise our history, culture, identity and in short, the values that form us as we are and keep us together.
Therefore, we have to give our children the pleasure and love for reading at an early age. Because it is both difficult to get this habit after certain ages and one cannot make up for the time lost.
Distinguished Guests,
Today there is a reality we all know: unfortunately in our country people do not read books as they are supposed to. Research shows that only one person out of four has the habit of reading books. Approximately 32% of our population does not read at all.
The average number of books read per person per year is more than 20 in developed countries, whereas it is only 7 in our country.
This is not a result which befits our country. This is the reason we have launched the Turkey is Reading Campaign and the Talking Book Festivals.
Fortunately, our society responded with an excitement to the efforts that we have been conducting enthusiastically. A reading campaign has been launched all over the country. 
Our citizens are encouraged to read with new events every day. Book reading competitions are held and even records worth entering into the Guinness Book of World Records have been broken.
Through all these efforts, I am sure that reading ratios will increase day by day.
Distinguished Guests,
Descartes once said "The reading of all good books is like a conversation with the finest minds of the past centuries." As the philosopher said, books talk to readers through authors. Every book talks. What makes them talk is the reader's inner voice.
In this Talking Book Festival, books speak through the voices of celebrities that are role models for the society. Outstanding figures of the business world, sports life and intellectuals read aloud the books they have chosen to their audience and discuss the issues in these books with them.
We think that this is of great importance in terms of imbuing children with the love for books and encouraging them to read.
Hearing their favorite writers, artists or sportsmen read books will not only linger as unforgettable memories in our children's minds but also strengthen their relations with books.
Distinguished Guests,
Alas, in our country there is a misunderstanding: reading books is seen as the duty of only our children and youth. However, reading has no age limit.
Parents usually complain about their children for not reading books and spending all their time in front of televisions or computers.
Now, I want to ask our dear parents: How much time do you spend reading books?
It should not be forgotten that enabling your children to have the habit of reading starts with you.
You are the first and the most important role models for your children and if you want your children to read, you have to read first.
This will be an important step for a child who follows his parents and memorise almost everything they do.
You can take some time in the evening and read books as a family.
You can urge your children to set their own libraries up by buying them books as much as toys. A child with developed awareness for libraries will learn how to keep his books with care.
In memories from my childhood, there were days when my father and I went book shopping. I cannot describe how happy I was at those times. When I got home, I used to take care of them carefully, even bind them and after reading I used to place them in my library with pleasure.
It is a culture actually.  Smelling a book's odor, taking notes of your favorite parts and protecting your book as your most precious object are all parts of a culture.
Dear Children,
I am sure that during your summer holiday, you took a rest, had fun and also read. You followed your imagination in the colorful world of books, started new journeys. Who knows how much you have learned from what you have read.
Do not end your friendship with books. Make books an inseparable part of your lives. Read every single day. You will see how reading can make you feel better. 
I know that new technologies and catchy products attract you more. Today, in almost every house, there is a computer and access to internet; but do not use technology to play games only. Please make use of the opportunities your computer gives you in searching and finding information.
Writing is also as important as reading, dear children. Reveal yourself in written work with the words you have learned while reading.
Keep diaries, for example. Do not forget that words vanish but writings remain. Write down everything you experience each day with the same feelings. This will improve your writing skills and leave you memories for the future.
Trust me, it is not easy to remember those memories as time goes by.
Distinguished Guests,
To conclude, I would like to thank authors, artists, sportsmen, intellectuals and businessmen who voluntarily lent their corroboration and contributed to the campaign, to the Governor of Ordu in particular for making the Ordu Reading Festival come true.
On this occasion, I wish success to all our students in the new academic year and thank our dear teachers on behalf of you once again for raising our children with great love and self-sacrifice. I will read aloud a short passage from the Travel Book of Evliya Celebi. As you all know this year is the 400th anniversary of the birth of our worldwide known wanderer, Evliya Celebi. UNESCO declared 2011 the Year of Evliya Celebi.
You can read the Travel Book if you want to know about his visit to the Black Sea.
With the hope of meeting at the colorful world of books again, I wish everyone a good reading."