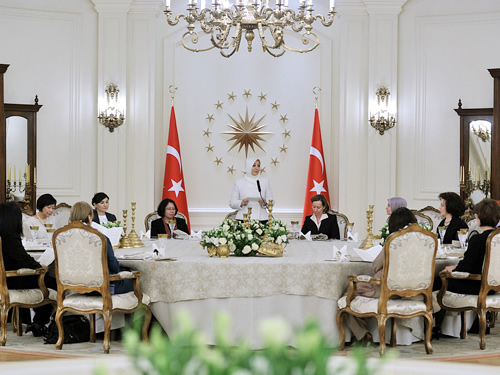 Honorable Ladies,                                
Distinguished Guests,
It is a pleasure for me to host you at the Çankaya Presidential Palace in the first days of 2012, which we welcomed with new hopes and greetings.
Our country with its unique heritage for nearly twelve thousand years has been the meeting point of civilizations and religions for centuries.
Turkey, hosting different cultures throughout history, has been able to create an atmosphere where these cultures can live in harmony by appreciating these differences as its greatest wealth,
Today, you are thousands of kilometers away from your countries and are our guests in this land. I believe that you will all find something similar to your cultures, values and your identities in this country's rich mosaic. For this reason, I hope you will not feel yourself complete strangers.
Our country and our people have many treasures worth discovering.
My advice to you is not to get stuck in the narrow patterns of the official and diplomatic environment but instead just try to discover this country's historical and cultural values.
I believe that our hospitable people will see you as a part of the Turkish family and welcome you in the best way.  
Thus, during the time you will spend here, you can not only have valuable memories you will remember for a lifetime but also contribute to the existing friendship of our countries.
Distinguished Guests,
Throughout the career of my husband, starting with an international mission and continuing as Member of Parliament, Prime Minister and Minister of Foreign Affairs, I had the opportunity to get to know many diplomats and their spouses. I witnessed the efforts you showed to represent your countries in the best way. I know that most of you stand next to your husbands and support them with great sacrifices and sometimes under hard conditions.
With the duties you perform despite all these difficulties, you do not only represent your country, your people and your culture in the best way but also enable the development of mutual understanding and cooperation between countries, and in fact, you serve to international peace and stability.
Honorable Ladies,
Unfortunately, we left another year behind during which thousands of people lost their lives due to hunger around the world, lack of medicine, terrorism and wars.
Every new year is an opportunity to come to terms with the past and freshen up our hopes for a peaceful future for all mankind.
I hope that 2012 will be a year, where these good wishes do not remain unrealized but come true and that everyone will be more sensitive, respectful and tolerant to each other.
To conclude, I wish you all health, happiness and success in the new year and thank you for your valuable participation.
Enjoy your meal.