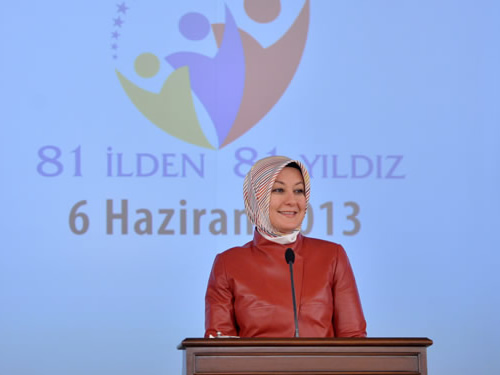 Distinguished guests,
Dear youth,
I am very happy to be with you on the occasion of the 5th Promotion Meeting of the 81 Stars from 81 Provinces Project today.
You have brought joy, enthusiasm and a gret synergy to Ankara at a time when we really need them. Welcome!
Springs during which nature is vivified serve as new opportunities for us to strengthen and vitalize our social responsibility projects indeed.
We, during spring time, evaluate what we achieved during the previous year, determine what deficiencies in these projects we have and hatch plans for the future.
As you may know, all of the projects the Presidency are conducting are long running projects which require an utmost care and meticulous work as well as a close follow-up..
On that note, I would like to offer my thanks to our team who devotedly carry out these projects and to everyone who has contribute to the realization of them. I am extending my heartfelt greetings to you all.
Distinguished guests,
I had a dream years ago that I wanted to reach my hands to children in need in the farthest corners of my country. I just wanted that they could get through to me whenever and wherever they needed my help so that they could realize their dreams in life with everything necessary for them, making their families and the whole of the nation proud of their successes
The 81 Stars from 81 Provinces is the concrete outcome of my dream. We planted this sapling with high hopes four years ago. We have taken pains for  it and conducted serious studies for months about how to reap the best efficiency.
We have raised our sapling with love an great toils and we did not have to wait for so long to get what we have put. Our sapling has already blossomed and produced fruits.
Its seeds were spread over the fertile soil of Anatolia. No doubt they have grown into spalings with fruits and blossoms. After all, we have put out trust in our children and because they deserve our trust and they have worked day and night no to let us down.
We at the very beginning had 81 buds on our sapling and each year another 81 ones have been added. All of them are in full bloom today.
As they have blossomed and as our children have sprung in their hearts, we have felt exuberant for them.
We have received success news of our children each day like Nur, Gamze, Emre, Batuhan, Mehmet Efe, Gurbet, Kübra and many others.
We felt obliged to work more as we followed their achievements with pride so that they would not not fade but that the smile on their faces would be eternal, paving for he way for them to achieve more.
Distinguished guests,
We are very proud to share with you today another 81 stars have joined our family. We just watched the promotion clip of them.
Our family is growing and gaining strength as our children shining like stars have joined us.
Dear children, Welcome to our family!
You are our hopes and most heartfelt prayers for the future. You are the ones who will build the brighter future of our country.
You are the ones who will make our nation proud of the achievements you will have in sience, culutre, arts and sports.
You will be the future of our country where differences are seen as treasures, and where everyone embraces each other with love and tolerance. We have great expectations from you, I know, but I also know that you have a huge potential to meet these expectations and high hopes as long as you are resolute to wield your potential to the end.
We will always stand right beside you with whatever we have and we will always support you with our love and good will.
In return, you will work very hard and try to do your best.
We count on you and you should have self confidence. Determine your targets and make every effort to reach these targets. I promise, when you do this, you will see you will accomplish things beyond your dreams.
In ending my speech, I once again would like to extend my thanks to those who have trusted and contributed to our project and I wish our stars every success and I hope the number of our our stars increase every year.