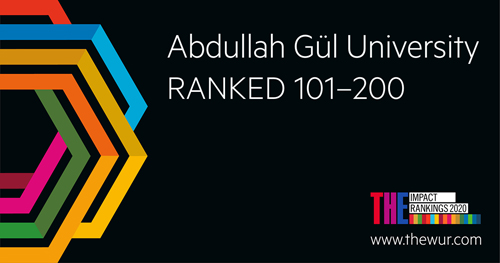 Abdullah Gül University (AGU) ranked Top 200 in the latest Times Higher Education International Ranking, leader in Turkey
The international higher education rating agency Times Higher Education (THE) announced the result of its University Impact Ranking 2020, based on the United Nations' Sustainable Development Goals (UN SDGs).
AGU was ranked, this year again, as part of the 101-200 most impactful universities worldwide, and the youngest university in the Top 200.
AGU is the leading Turkish University in the ranking, being the only Turkish higher education institution to be ranked in the Top 200. Other Turkish Universities performed remarkably in the ranking, placing in the Top 201-300 (Bahçeşehir, Hacettepe, Koç, METU, and Özyeğin Universities) as well as the Top 301-400  (Ankara, Boğaziçi, Erciyes, and İstanbul Bilgi Universities).
AGU Rector Prof. Dr. İhsan Sabuncuoğlu explained that this new international recognition reflects the great emphasis placed by AGU on "Societal Impact" since the university's establishment in 2010.
This achievement also echoes AGU's commitment to meeting the United Nations SDGs and relentless dedication to achieving all 3 University Missions: Education, Research and particularly "Societal Impact", the cornerstone of the "AGU New Generation University Model".
AGU Rector thanked all AGU members for their contributions to this major accomplishment, which will serve as a milestone on AGU's road to achieving its ambitious objectives: "Seek solutions to global challenges and develop citizens able to positively impact our global societies".