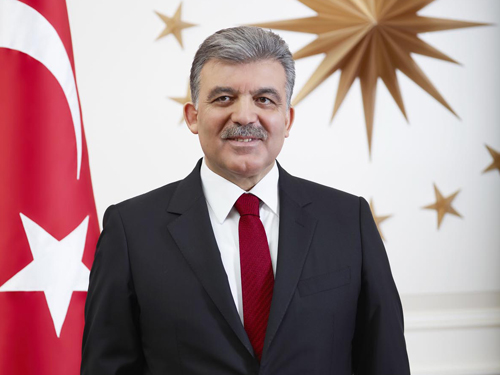 President Abdullah Gül, whose term in office is to end on August 28, issued a farewell message during which he said: "I have opened my door to the people during my term in office as President elected by the Turkish Grand National Assembly (TBBMM), which is the representative of the national will. I have welded the state with the nation, performing my duty to practice the constitution and maintain the harmony among the state institutions in the best way." 
President Abdullah Gül, whose term in office is to end on August 28, issued a farewell message for the people. 
Below is President Gül's message: 
"My fellow citizens, 
My term in office as the 11th president is about to end. I would like to sincerely evaluate my 7-year duty as president today. 
I have opened my door to the people during my term in office as President elected by the Turkish Grand National Assembly (TBBMM), which is the representative of the national will. I have welded the state with the nation, performing my duty to practice the constitution and maintain the harmony among the state institutions in the best way. 
I have regularly brought the heads of the legislative, executive and judicial branches together each year, contributing to dialogue and harmony among them. 
Despite my political identity, I have meticuluously maintained my impartiality. I have negotiated with and contacted the political parties as to the agenda. The synergy that my close cooperation and work with the government has created has considerably contributed to the prosperity and stability of the country. 
I believe that I have represented the state and the nation abroad in a way that befits the strength and prestige of our country. In the message I have given to the state institutions and our people, I have underscored that we all attach utmost importance to the principles of a democratic, secular and social state of law. 
I believe that our union and solidarity can be better protected on such a foundation. I have also tried d to lead an understanding that respect for human rights, equal opportunities in education, good governance and equality between men and women are all crucial for development and democracy. I have urged this understanding to be more effective in our region and across the world. 
Since the dawn of my political career, I have strongly believed that as a Muslim country, Turkey's success in implementing all the principles of democracy will greatly contribute to the Islamic world and world peace; therefore, I have considered our accession process toward the EU to be of great importance. 
My fellow citizens, 
During my term in office as President, I have strongly lended my support for the continuation of the political and economic reforms which I led and practiced when I served as Prime Minister, Deputy Prime Minister and Foreign Minister. Many times, I have called on the relevant people to write - with a consensus if possible - and all-inclusive constitution that befits the 21st century so that we do not deviate from this path. I have often reiterated the significance of the separation of powers and the system of checks and balances for our democracy as well. 
I have further maintained that the ballot box is sacred and the will of the people is the foundation of democracy. I have stressed the importance of other principles and values of democracy. I have always pointed to the cruciality of fortifying the institutions that are the foundations of democracy. I have made tireless efforts in order that the rule of law and the independence and impartiality of the judiciary do not get harmed. Moreover, the freedoms of expression, religion and conscience are the values that I have always cherished. 
I have also attached great importance to the freedom of the press and social media, adding that this can be restricted only when exceptional and legitimate events occur. I have had to make warnings when harsh statements have been made in politics and on media. Therefore, I have often pointed to the necessity for a new political language that befits our traditional manners and moral values and the level that our country has reached. I'm sure that you know my efforts toward the establishment of a culture of concensus in our country. I have also tried to imbue confidence and peace for you in difficult times. 
When I noticed tendencies toward polarization and vindictiveness, I suggested abandoning them, as I sincerely believe that all identities, beliefs, ideas, religions, thoughts and sects that our people espouse constitute our richness, diversities and joint forces. I have established dialogues and built bridges with all segments of society. With my belief in the fact that the freedom of religion and worship is an inseparable part of fundemantal rights and freedoms, I have always championed the cruciality to end the mispractices of secularism. You have all witnessed that at the highest level of the state, I have ended the headscarf problem which divided our people. As president, I paid the first visit to a Cemevi (the place of worship for Alawi people) and attended their iftar dinner. I have listened to concerns of our non-Muslim citizens and congratulated them on their religious festivals. 
My fellow citizens, 
As you may recall, I paid my first domestic visits to some eastern cities 7 years ago. I was deeply moved by the enthusiam and happiness of our people during my visits there. I have inspired and supported the studies and projects to end the historically-rooted cultural, humanitarian, political and economic problems of our Kurdish citizens. I have endorsed the regulations that end the discussions about military tutelage and coups. As commander-in-chief, I have been closely interested in the needs and problems of the Turkish Armed Forces and their members. I have also made tireless efforts for the modernization and consolidation of the Armed Forces. I have led the studies of the Defense Reform. I have cherished the valuable families of martyrs and war veterans. 
I have made warnings and shared my concerns openly with the public about the long periods of detention and the arrest of some MPs, former Chief of General Staff and journalists. I have underscored the importance of fidelity to the state, qualifications and merit should all take priority in public administration. I have further reiterated that no solidarity and structure within the state that are not based on the constitution and the law will be allowed. 
My dear citizens, 
As president, I have always wanted transparency and accountability to be dominant in the administration. I have pointed out that this is the foundation of a democratic administration and prosperity. To this end, I have attached utmost importance to the protection of the audit mandate of the Court of Accounts. I have also made the State Supervisory Council have such an active position for the first time in its history so that it can serve for the sake of the public conscience and interests. 
As for the economy, I have always maintained the significance of the correlation between political stability and economic growth. I have made suggestions as to the requirements of a sustainable growth. Within this framework, I have often reiterated the importance of quality education, scientific and technological developments and entrepreneurship, adding that we should become a knowledge-based society. I have drawn attention to the fact that the real test and challenge ahead of us is not to fall in the middle income trap. I have insisted that the relevent economic and legal reforms be made. 
Among those I have often contacted are business leaders, industrialists, merchants, labor unions, professional organizations and farmers all of whom I regard as the foundation of our economic and social life. I have visited municipalities of all our 81 cities without discriminating against any political party, urging our people to strenghthen their union and solidarity. 
My wife and I have taken many social responsibility projects under our aegis. I have also led the projects toward the protection of our cultural heritage. I have tried to raise awareness about the protection of the environment and natural life. I have regarded universities, religious scholars, artists, philosophers, intellectuals and scientists as distinguished representataives of our spiritual and intellectual richness. I have enjoyed close dialogue with them and the youth. 
My dear citizens, 
My wife and I have represented our state and nation abroad by showing ultimate attention. I have conducted intense diplomatic activities for our country's aims in foreign policy and strategic interests. I have tried to make my sincere contributions to the regional and world peace, believing that Turkey should represent virtuous power in diplomacy. I have further enabled my activities in this regard to respond to the needs of our economy, trade and business and to our interests in such strategic areas as transportation and energy. 
We have turned my foreign visits into big expeditions during which our business leaders and entrepreneurs can evaluate investment opportunities. I have made the first state visits from Turkey to many countries. I have also hosted many heads of state on their first visits to Turkey. I have strengthened our relations with our allies and friends at the highest level. I took pride in the fact that our country, after 40 years, was elected to the UN Security Council. I presided at the council as well. 
I have attached utmost importance to the progress of our full membership in the European Union. I have maintained and strengthened our warm relations with our neigboring countries, friends and relatives. I have contributed to our relations with the Turkic world and Islamic world to raise these relations to the highest level. I have displayed my robust support for our Cyprus cause by making my first and last visits to the Turkish Republic of Northern Cyprus. I have taken advantage of every occasion abroad to meet with Turkish expatriates.
I have developed our relations with rising economies in Asia. I have reached such remote regions as Africa and Latin America. I have also developed problem-solving approaches toward our region's chronic conflicts in foreign policy including Palestine and Nagorno Karabagh. I have always placed utmost care toward the Palestinian cause. I have led and hosted some regional cooperation initiatives and mechanisms. 
In my speeches at international forums, I have urged humanity to wage a joint struggle against such global challenges and threats as poverty, the drug problem, proliferation of WMDs, xenophobia, racism, sectarianism, fanaticism, Islamophobia and antisemitism 
My fellow citizens, 
I have felt the warmth and love of our citizens from every belief, ideology, identity and age during my term in office. This sincere love and trust will be the best memories from my term in office that I will carry in my heart 
In this vein, I would like to offer my heartfelt thanks to the TBMM, the government, the judiciary and NGOs for their valuable cooperation. I hereby remember our forefathers, the founders of our state, martyrs, war veterans, heroes and heroines with gratitude. 
As I am about to leave my office, I would like to reiterate once again my confidence in the future of our nation and country. 
I wish you every happiness and blessing. 
May Allah be with you all."