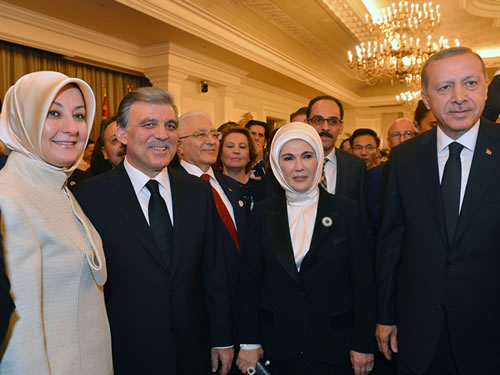 President Abdullah Gül, whose term in office is to end on August 28, threw a farewell reception for  high state officials, foreign mission representatives and the press members at the Çankaya Presidential Palace.
Below is President Gül's speech at the reception:
"Mr. President-elect,
Mrs. First Lady,
Dear guests,
Ladies and Gentlemen,
My term in office as the 11th President of the Republic of Turkey is about to end. I would like to offer my thanks to you all for joining the reception that First Lady Hayrünnisa Gül and I host tonight.
I would like to extend my congratulations to Prime Minister Recep Tayyip Erdoğan on being elected as the 12th President at the end of the presidential election held last Sunday. I also would like to congratulate Mrs. First Lady, Emine Erdoğan. I wish you both success in this honorable duty.
Dear guests,
I have enjoyed support from the members of the legislative, executive and judicial branches as to the coordination of the state institutions, which is one of the most important constitutional duties of a president.
The cooperation and contributions of the TBMM, MPs and administrators from both the government and the opposition, ministers, members of the judiciary, the Turkish Armed Forces and other state organizations have all played an important role for me to perform my duties as president at home and abroad in the best way.
We have together lived the last 7 years of our republic in its over 90 year-long walk as a democratic, secular and social state. I hereby would like to bid farewell and offer my thanks to you.
Distinguished guests,
During my term in office, I have taken the utmost care to protect Turkey's peace and stability at home and dignity and strength abroad. I have made great efforts to lead our people with the understanding that national prosperity and peace are closely related to the rule of state and modern education system based upon democratic pluralism and human rights.
As I have always said, democratic life is a process toward excellence. This process involves overcoming deficiencies and correcting faults through criticism and self-criticism and it is also about amending what has been done through reforms. Turkey today has reached a democratic maturity that is capable of overcoming its deficiencies. I am leaving my office with confidence in and hope for Turkey. On the other hand, I'm observing with concern the grave political conflicts, armed clashes, massacres and occupations in our nearby countries and other parts of the world none of which befits the level of civilization that humanity has reached today. Therefore, it is to our benefit and for peace in the region and the whole world that Turkey should be strong, stable, prosperous and prestigous more than ever. Our nation has a wisdom that has been passed down from a historic accumulation dating back centuries.
I have no doubt that the Republic of Turkey, which our nation has established, will maintain a prominent position in the 21st century and that the Turkish nation will protect its dignity for good.
Dear guests,
In this vein, I would like to extend my heartfelt thanks to you all once again.
I will meet with representatives of NGOs here as well next week. I would like to greet you all on my and the First Lady's behalf. I wish you all every success, joy and happiness.
Thank you."
Among the invitees were the Speaker of the Turkish Grand National Assembly (TBMM), Cemil Çiçek; the President-elect Recep Tayyip Erdoğan; Nationalist Movement Party leader Devlet Bahçeli; Prime Minister Deputies Bülent Arınç, Ali Babacan, Beşir Atalay and Emrullah İşler; Ministers; Commanders-in Chief and other officials.