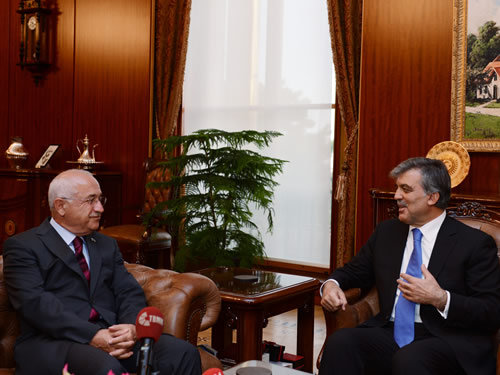 President Abdullah Gül, whose term in office will end on August 28, paid a farewell visit to both Speaker Cemil Çiçek of the Turkish Grand National Assembly (TBMM) and Prime Minister Recep Tayyip Erdoğan.
Welcomed with a military ceremony upon his arrival at the TBMM, President Gül and Speaker Çiçek proceeded to the latter's office and had a tete-a-tete there.
TBMM Speaker Çiçek noted that President Gül as the 11th President of the Republic of Turkey has made great contributions to the country's democracy, prosperity and happiness, serving as a leader on this path.
Reiterating that he was the last President to be elected by the Parliament, President Gül said that "I would like to extend my love to MPs, the representatives of the people. Turkey is a democratic state of law. One of the most important characteristics of democracy is that elections are held with the will of the people who give responsibilities to those representing them. These representatives when their terms in office end step down. I am as honorable today as I was at the time when I was elected as President."
President Gül afterwards paid a farewell visit to the Prime Minister as well. Prime Minister Erdoğan welcomed the President at the Central Building of the Prime Ministry. After that, the two leaders had a tete-a-tete.