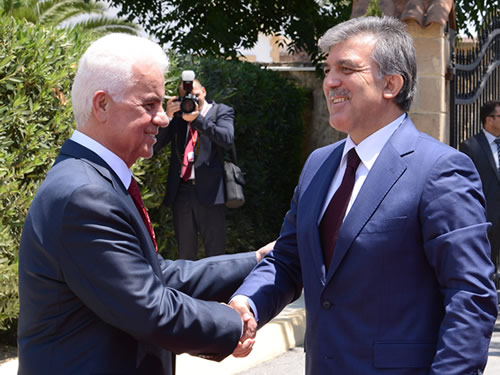 President Abdullah Gül is paying an official visit to the Turkish Republic of Northern Cyprus (KKTC) at the invitation of President Derviş Eroğlu on the occasion of the 40th anniversary of the July 20 Peace and Freedom Festival.
President Gül was welcomed by President Eroğlu of KKTC; KKTC Parliament Speaker Sibel Siber; Turkish Ambassador to Lefkoşa Halil İbrahim Akça and other officials at Ercan Airport.
President Gül later proceeded to the Presidential Palace, where an official welcoming ceremony was held.
Deputy Prime Minister Beşir Atalay is also accompanying the President on his visit to KKTC.
After the welcoming ceremony, President Gül and President Eroğlu had a tete-a-tete.