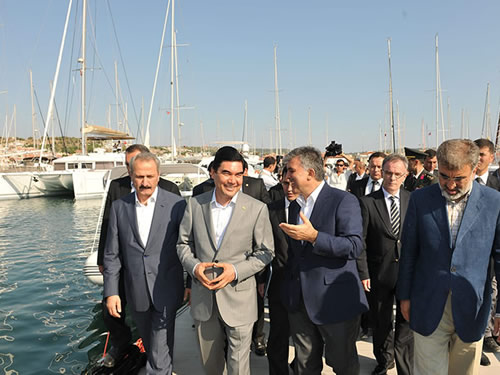 President Gül, after his visit to the soldiers who were wounded during the last heinous attack of terrorists on the bus carrying military personnel in the county of Foça, proceeded to the county of Çeşme, where he performed the Friday Prayer, and explored a windsurf school in Alaçatı and Çeşme Marina along with President Berdimuhamedov of Turkmenistan.
The President, after performing the Friday Prayer at the Çeşme Merkez Mosque, had memoir photos taken with citizens who demonstrated great enthusiasm for him.
President Abdullah Gül and President Gurbanguly Berdimuhamedov of Turkmenistan visited Bora Kozanoğlu Windsurf School in the town of Alaçatı and watched a performance of national surfer Kozanoğlu and other surfers. Kozanoğlu later informed the Presidents about their activities.
President Gül and President Berdimuhamedov afterwards explored Çeşme Marina about the facilities of which they were informed by General Manager Kemal Saatiçioğlu during their visit.
Seeing his Turkmen counterpart off, President Gül proceeded to Çeşme Castle and visited the bazaar where he chatted with shop owners and citizens as well.