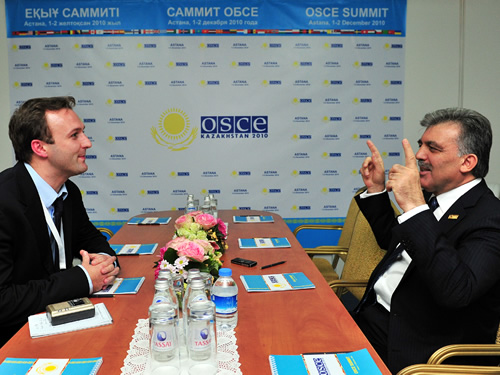 Turkey eyes closer ties with Russia, C.Asia
* Plans financial assistance to new government in Kyrgyzstan
* Sees "silent but determined diplomacy" on Nagorno-Karabakh
* EU accession blocked by "lack of strategic vision"
* Says Europe should diversify energy supplies
By Robin Paxton
ASTANA, Dec 2 (Reuters) - Turkey's president, frustrated by "artificial" barriers to the country's long-held ambition of joining the European Union, is building closer ties with Russia and Central Asian states, where Turkish business is flourishing.
Abdullah Gul, in an interview with Reuters, said accession to the EU remained a priority and that Turkey would play a key role in future energy supplies to Europe. But he said his country is also playing an increasing role in ex-Soviet states.
A front-line NATO ally, Turkey benefitted from the end of the Cold War by making friends with its former adversaries.
Today, the West is more concerned by Turkey growing closer to fellow Muslim neighbours, like Iran and Syria, although Turkey sees its role as a stabilising force in the region.
Closer ties between Ankara and Moscow have led to progress in resolving the decades-old conflict between Armenia and Azerbaijan over the breakaway Nagorno-Karabakh region, Gul said.
Turkey is also preparing to invest in Kyrgyzstan now there is a new government in place after the overthrow of the president and outbreak of ethnic violence in the ex-Soviet Central Asian state earlier this year.
"It will be mainly economic and financial assistance. We are also carrying out various training programmes," Gul said on the sidelines of a summit of the Organisation for Security and Cooperation in Europe (OSCE) in the Kazakh capital of Astana.
Political leaders in Kyrgyzstan, which hosts U.S. and Russian air bases, agreed on Nov. 30 to form a coalition government and build the region's first parliamentary democracy.
Gul said the Turkish Cooperation Council, a new body that groups Turkic nations, would help strengthen ties with Central Asia, where Turkish firms are among the most active investors.
"During the Soviet regime, there was a wall built between these lands and us. We used to keep our feelings concerning this part of the world deep in our hearts," Gul said.
"Even though we speak a different dialect, we are speaking the same language. We have the same culture and the same faith."
ENERGY PLAYER
Five years have elapsed since Turkey entered formal talks to enter the EU. In that time, Turkey has completed one chapter, the term given to subjects for negotiation, and opened 13 others, leaving 21 to go.
Many of them are blocked by EU member Cyprus, the divided Mediterranean island where Greek and Turkish Cypriots are struggling to agree how to reunite.
Doubts about admitting a Muslim country of 74 million people have held Europe back from welcoming Turkey. Gul said the issue had become "politicised" and that "artificial" barriers were delaying the process.
"Cyprus would be an example. Even though the Cyprus issue is quite obvious, certain parties are hiding behind it, using it as an excuse," he said.
"We have started accession negotiations and we are very much determined to finish them."
He said Turkey would play a crucial role in new energy supply routes to Europe, and that diversifying sources of oil and gas would make sense to European countries.
"Resources coming from Russia being complemented by supply from the Caucasus, Central Asia, Iran -- if the political environment is suitable -- and the Middle East would be the normal option," he said.
"Turkey becomes a very important alternative energy route when I list all the supplier countries."
NAGORNO-KARABAKH
With Russia, Turkey is playing a leading role in trying to settle the Nagorno-Karabakh conflict. Gul said he discussed the matter with Russian President Dmitry Medvedev at the summit.
In a small sign of progress, the presidents of Armenia and Azerbaijan said at the OSCE summit they were committed to seeking a final settlement. The OSCE pledged support to both countries and called for steps to strengthen a ceasefire.
"Even though there is no breakthrough point at the moment, there are some positive steps taking place," Gul said. "There is a silent, but very determined diplomacy."
Skirmishes are common around the mountainous region of Nagorno-Karabakh, where Christian ethnic Armenians threw off rule by Muslim Azerbaijan with the support of Armenia in fighting that erupted as the Soviet Union collapsed.
Some 3,000 people, mostly soldiers, have been killed since 1994, and the conflict is a constant threat to stability in the South Caucasus, a region bordering Russia, Iran and Turkey and criss-crossed by pipelines carrying oil and gas to Europe.
Turkey's efforts since 2008 to normalise its own thorny relations with Armenia added to the complexities by fuelling a sense of insecurity in Azerbaijan.
"I sincerely believe that the de facto situation in the Caucasus is not in the interest of any one of us," Gul said. "Everyone should have perspective, cover the big picture." (Editing by Simon Cameron-Moore and Janet Lawrence)