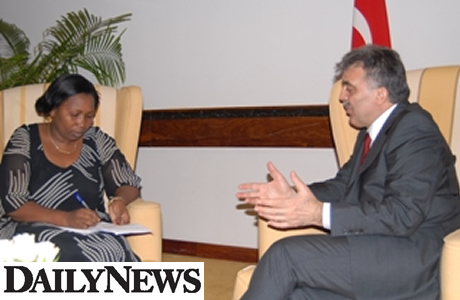 Tanzania-Turkey relations in new heights

The Turkish President, Mr Abdullah Gul, paid a two-day official visit to Tanzania this week which was part of his country's efforts to enhance relations with Africa. During an exclusive interview with Staff Writer TUMA ABDALLAH he discusses the level of co-operation between the two countries as well as Turkey's outreach programme for Africa.
QUESTION: How do you describe the relationship between Turkey and Tanzania?

ANSWER: Turkey has always been cooperating with various countries directly and through international organizations such as the World Health Organization, the World Food Programme (WFP) and the Red Crescent.With Tanzania we have at all times maintained wonderful relations. The two countries have been cooperating in many areas. My visit to Tanzania, I hope, will open up a new page in our relations. There will be even closer and stronger ties for the benefit of both sides.

QUESTION: Are there areas of co-operation that you think need strengthening?

ANSWER: The relationship that exists is very good and is appreciated by leaders of the two countries. Turkey has adopted a policy for Africa that is aimed at strengthening relations with the continent.

Within its framework, Turkey hopes to further develop its political, economic and cultural ties with African countries including Tanzania.The so-called Africa Policy comprises several areas, such as developing diplomatic relations, and fostering political, economic and cultural co-operation.

QUESTION: When you arrived in the country yesterday what were your first impressions of Dar es Salaam and Tanzania in general and what impressions are you going home with?

ANSWER: Tanzania is a beautiful country. I am very glad to be here. The first information about Tanzania impressed me very much. First of all there is good democratic tradition here that can not be found in many countries in Africa. Secondly, I see very rational relations here...very realistic ties. The country's economic reform process is also very impressive. If you have democracy, peace and stability and reasonable economic policies then you have conducive environment for attracting investments, tourists and others. For that I see Tanzania ready for all these. Tanzania is actually a country that has impressed me a lot.

QUESTION: Turkey is one of the countries that have recorded a huge economic growth in a couple of years. What is the secret behind this growth?

ANSWER: Successes depend on stability, security and correct economic policies. We also carried out economic reform processes in our country which compelled us into changing our laws.

The achievement that we have achieved has come through a very transparent process. We seriously fight corruption as well. These are the basic elements one needs to develop.

QUESTION: Your country has embarked on an outreach programme for Africa. One of the recent examples is the launching of the Turkey-Africa Cooperation and the hosting of the first Summit in Istanbul last August. Turkey is also in the process of opening up a number of embassies in Africa including the one in Dare es Salaam. Why are you so keen on developing your relations with Africa?

ANSWER: First of all we have all along maintained good relations with Africa. Africa is a unique continent. It is very rich in terms of culture and resources of course. But at the same time Africa is suffering a lot. So it is the responsibility of all of us who have made a leap in development to complement in developing this continent. We attach particular importance to Africa within the context of our new perspective policies. Turkey also supports Africa through its membership in several international organizations. And as we have secured a non-permanent seat in the UN Security Council, we will use our presence there to pay special attention to African issues. So our interests are so much natural.

QUESTION: How has the current global economic crisis affected Turkey? How are you coping?

ANSWER: You are talking about global economic crisis. If it is global then it means everyone in this world will suffer in one way or another. Turkey is part of the globe. But thank God six years ago we strengthened our financial sector, we introduced new laws, new systems. The move was geared towards increasing domestic savings and directing them efficiently towards financing investment projects hence positive impacts on economic growth. A sound financial sector is a pre-condition for the overall economic stability. Now Turkey's financial sector operates on a sounder and less vulnerable to external and domestic shocks. The global crisis will therefore affect us but not as serious as other countries.

QUESTION: Can the crisis affect the level of co-operation with Tanzania?

ANSWER: I don't think so because our priority is different. We have been supporting each other and I don't think the crisis will make us change that. We are actually planning to increase investments and other economic activities and I believe we will be able to do so.

QUESTION: African countries, including Tanzania, are still poor despite the existence of an abundance of natural resources. These countries need the assistance of their development partners like Turkey to move on. Where do you 'picture' Turkey' in Africa's needs?

ANSWER: You are right Africa needs development and the continent can not do it by itself. That's why Turkey is helping out African countries. The Turkish Co-operation stands to mobilize more assistance. So far we have allocated 50 million US dollars for the financing of development projects in several African countries over the next five years.

Also the Chairman of the Turkish International Cooperation Agency (TIKA) is with me here and held discussions with relevant authorities for supporting various social and economic sectors such as agriculture, education, health. We are therefore always readily available to support Tanzania and other African countries develop. Last year our contribution to the world reached almost five billion US dollars.