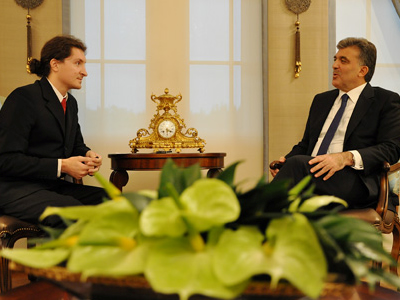 According to him (Abdullah Gül), the European Union will be stronger with Turkey and if the French will stop it, it is up to them. Few days before his visit to Slovakia, Turkish President Abdullah Gül gave an interview to SME Daily.

SME Daily: Some Europeans think that such a big Muslim country like Turkey could threaten the nature of the European Union. How would you respond to this?

PRESIDENT GÜL: "You are right here, although I believe that those who think so are in minority and that there are not many of them. Such thinking is contrary to the basic nature of the European Union. It is not a religious club. The Union is built on basic values such as democracy, human rights, and free trade. Other aspects, such as ethnicity, language, or religion belong to individuals."

SME Daily: Slovakia supports Turkey's integration ambitions, big players like Germany and France particularly have problem with this. Are you not afraid that when it comes to the breaking point, they will block your country's accession to the Union?

PRESIDENT GÜL: "We do not fear that the negotiations would fail. Otherwise we would not join the Customs Union with the European Union, which has been working for 15 years. Our industry is in a duty-free competition with the Union's economy. It is important to say that we sell mostly the cars produced in our country, to the European Union. Yes - France, for example, has decided that they will go to referendum for Turkey's accession. If the French decide that they have neither interest nor need for Turkey's membership, then they should express it clearly."

SME Daily: The Justice and Development Party (AKP) is considered as an Islamic party, however, in terms of the reforms, it achieved more than the secular opposition. Why is the European Union so important for you?

PRESIDENT GÜL: "I would like to point out that AKP has never been defined by any religious terminology, nor we have such effort. Since I have been in politics - I was Minister and also Prime Minister - I have considered the European Union very important. As a member of the Union, Turkey as well as the European Union itself would be much stronger."

SME Daily: When you were elected President by the Parliament, both the army and police warned that the secular nature of the Republic of Turkey will be lost and they attempted to remove you from your position. Are you getting on well with the generals now?

PRESIDENT GÜL: "Pursuant to the Constitution, I am the Commander in Chief of the Armed Forces, so there is nothing to deal with. O.K, a part of the opposition did not vote for me, but this is what democracy is all about. As an elected President I fulfil my duties and that is all."

SME Daily: One of the main arguments against you was that your wife wears the Muslim headscarf, which has not been seen in the Presidential Palace since the times of the founder of modern secular Turkey, Mustafa Kemal Atatürk. Have your critics already got used to it?

PRESIDENT GÜL: "When you walk the streets of Turkish towns, you see that lots of women prefer wearing scarves. And it is a personal choice. Everyone has to respect it, as it is a private choice in which no one should intervene."
SME Daily: Nevertheless, the giant-process of Ergenekon is going on, according to which people from the opposition as well as the army tried and still do try to remove your party from the Government. Do you consider it a real threat?

PRESIDENT GÜL: "As your question is about an ongoing legal proceeding, I do not want to comment until it will be solved at the Court."

SME Daily: Your colleague, Prime Minister Recep Tayyip Erdoğan, who recently returned from Tehran, says that Iran is Turkey's friend. Is it the same also when talking about Israel?

PRESIDENT GÜL: "Of course, Israel is our friend just like Iran, which is also our neighbour."

SME Daily: After the winter war in Gaza, Prime Minister Erdoğan speaks of Israel in a hard, non-diplomatic way. Don't you think that the relations between Turkey and Israel have worsened significantly?

PRESIDENT GÜL: "Among friends, it does not work the way that if someone makes a mistake they will not tell each other. Friendship means that you talk in a very open and sincere way."

SME Daily: Are you not worried about the controversial Iranian nuclear programme?

PRESIDENT GÜL: "We are against all nuclear weapons, no matter who owns them and where they are situated. Nevertheless, everyone has the right to have nuclear energy for peaceful purposes."

SME Daily: Recently you returned from Armenia, with which you did not talk for many years and had closed borders. It seems that your football-diplomacy did work and soon you will establish diplomatic relations. How is it in the case of Cyprus?

PRESIDENT GÜL: "As far as Armenia is concerned, our desire is to complete this process and therefore we would like to establish diplomatic relations as soon as possible. In the case of Cyprus the negotiation is still going on. We hope to achieve the result by the end of this year. In 2004, it was the Greek Cypriots who rejected the peace plan of the European Union and United Nations. Otherwise, this issue would have been solved."

SME Daily: Some years ago, the Armenian-Turkish journalist Hrant Dink was assassinated in Istanbul, only because he opened a discussion on the Armenian genocide in the Ottoman Empire, which is being denied by Ankara. Is it still dangerous to have other than official opinion in Turkey?

PRESIDENT GÜL: "The case of the murder of Hrant Dink was brought to justice. In Turkey there have been no similar cases anymore and the freedom of speech is guaranteed."

SME Daily: Besides the revival of the relations with Armenia, the Kurds living in Turkey finally got their own television. Why did it take so long?

PRESIDENT GÜL: "Well, you know, everything is in the process."